For over 52 years, Earth Day has been a day dedicated towards the drive for sustainability and restoration. Typically what comes to mind to most on this day is the ending of carbon emissions, the reestablishment of healthy ecosystems, and the drive to 'close the loop' and achieve a waste-free world. The push for a circular economy is especially strong amongst the public, with calls for the end of single-use plastics, superfluous packaging, and the legislation to enforce this. However, one sector of the economy remains generally forgotten about when it comes to its refuse - The Healthcare Sector.
Medical waste simply refers to any waste produced by the healthcare industry. Most of this, around 70-85%, is no different to typical household waste, and needs no special treatment. However the remaining 15-30% is considered hazardous [1]. The types of hazards this waste poses varies, from harmful chemicals used for sterilizing surgeries, to radioactive hazards from radiotherapy units, contaminated supplies exposed to infectious persons, or sharps such as used needles [2].
1-2 million metric tons of dangerous hospital waste produced annually
On a global average, 2kg of waste is made per hospital bed per night, and approximately 60% of the hazardous medical waste produced is improperly treated [1]. This amounts to a total of around 1-2 million metric tons of dangerous hospital waste produced annually. The exact number of deaths and injuries caused by exposure to this amount of waste is not yet well studied. A proxy measure used by the WHO is cases of bloodborne diseases from needle-stick injuries and unsafe injections, which in 2008, totalled over 20 million cases (a significant proportion of which is from hospital waste exposure), whereas sharps that cause this danger make up only around 7% of hazardous medical waste [3].
Whilst richer countries have the infrastructure and resources to better handle hazardous waste, hospitals in richer nations produce far more waste per patient, up to 5 times as much as the global average [2]. As such, the primary harm reduction method is to significantly cut this waste where possible. This means that where safe to do so, medical equipment should be sterilized and reused, and care should be made to ensure that it is easier to dispose of the supplies that must remain single use (such as needles and PPE).
Beyond the health impacts, hazardous medical waste also poses financial risks
Tackling medical waste is not only part of the moral obligations to harm-reduction that healthcare providers are bound to, but also a matter of financial prudence for clinics and hospitals. In 2019, the reprocessing of over 6900 metric tons of healthcare equipment in the US, EU, and Canada saved hospitals and surgical clinics $544 million USD, a 15% increase from the year prior [4].
In our research at RGS, we have found that, when no collection or refurbishment schemes for products exist, the average impact of medical waste is -$0.17 for every dollar of revenue a company makes in medical equipment and supplies. With clear demand from health institutions, and the growing awareness of extended responsibility, Healthcare Equipment manufacturers are now more than ever under increased demand to reduce the impact of their products both by product design, and by such schemes. Having no collection schemes in place is a significant negative externality that society bears. Nevertheless our analysis also highlights how rapidly and impactfully companies in this industry can improve their impact, and unlock new financial opportunities in the process.
Industry best-practices lead to resale revenues opportunities
In 2017, Koninklijke Philips NV began a refurbishment trial for large diagnostic equipment such as MRIs. In the 3 years since, they have pushed this further and in 2020 achieved 100% circularity for these products, which make up 60% of their medical equipment revenue [6]. Similarly, Becton Dickinson and Co began its collection scheme for used products in 2018 [7], and our analysis again highlights the immediate and tangible outcomes to society. Using our analysis, we see that by 2020, the medical waste impact per dollar of relevant revenue improved by +$0.06 and +$0.04 for Royal Philips and Becton Dickinson and Co respectively.
Not only has this refurbishment eliminated major sources of radioactive and chemical waste, but in both companies, the avenue for resale revenues have been pushed wide open. This bolsters the financials for the company. Resale also has the added knock-on effect of increasing the affordability of large medical devices for hospitals in the developing world, increasing equitable global access to quality healthcare.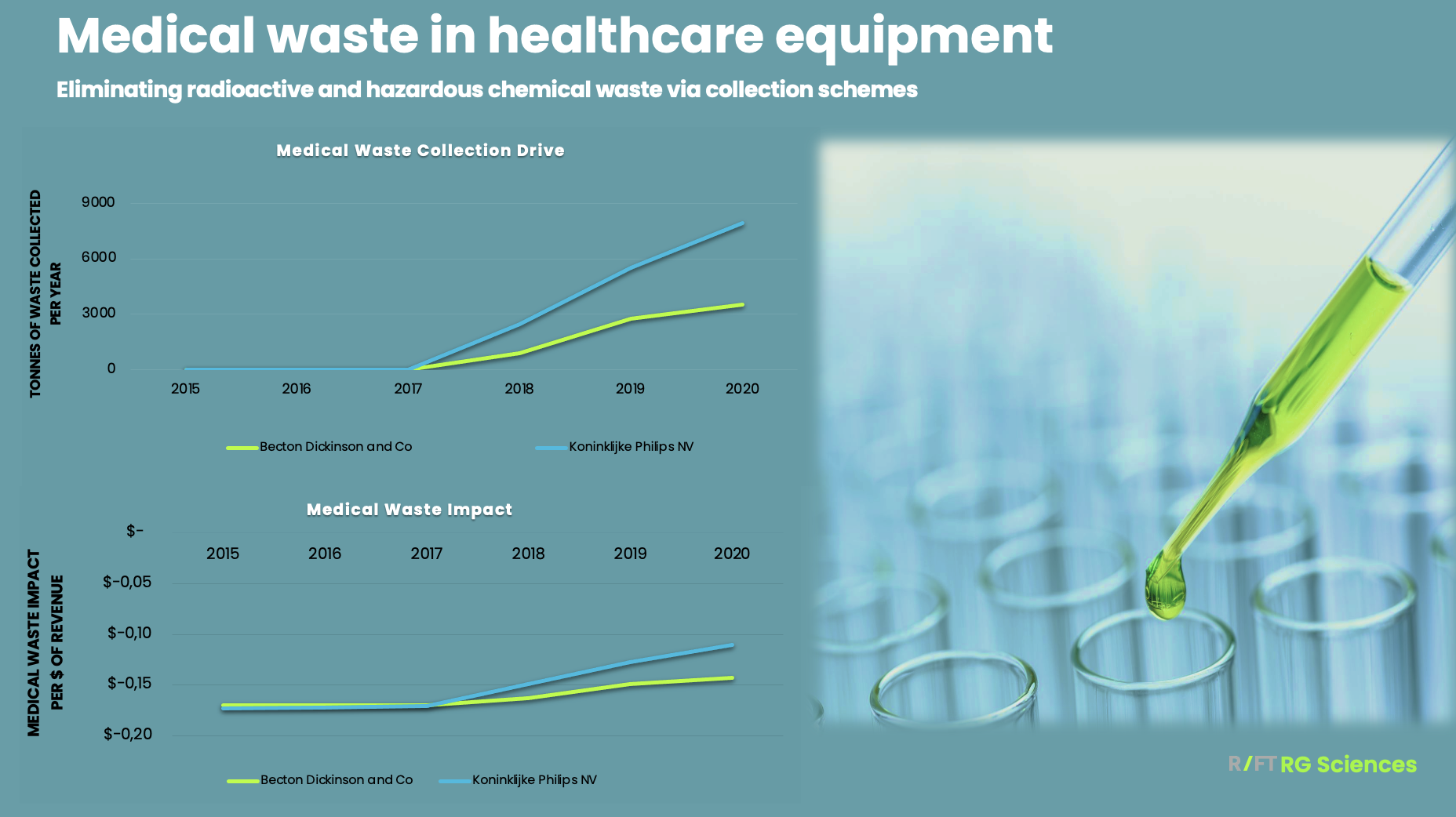 With our focus on impact over intentions at RGS, our results shed light on hidden externalities, and they don't hide performance behind a report-card grade. Using our solution, RIFT, you will be equipped with the right toolset to see the results of further healthcare companies and how their impact compares within the industry and beyond. If you want to find out more, let's talk.
---
[1] N. Singh, Y. Tang, and O.A. Ogunseitan, Medical Waste: Current Challenges and Future Opportunities for Sustainable Management, (Feb 2021), Critical Reviews in Environmental Science and Technology


[2] International Committee of the Red Cross, Medical Waste Management, 2011

[3] R. Stringer, Health Care Without Harm, Medical Waste and Human Rights – Submission to the UNHRC Special Rapporteur, (2011)
[4] Association of Medical Device Reprocessors, Reprocessing by the Numbers, (2019)
[5] C.C. Zygourakis et al., Operating room waste: disposable supply utilization in neurosurgical procedures, (2017), Journal of Neurosurgery, Vol. 126 Issue 2
[6] Koninklijke Philips NV, 2017-2020
[7] Becton Dickinson and Co, 2018-2020
Photo by Christian Lue, Unsplash